Injured in a Pedestrian or Bicycle Accidents in Oklahoma?
Our attorneys can help hold the at-fault driver accountable
Car accidents involving cyclists and pedestrians often result in serious injuries. If you or a loved one has been injured in a bicycle accident or pedestrian accident in Oklahoma, contact us as soon as possible.
An Oklahoma bicycle accident attorney or pedestrian accident lawyer can fight for your rights and the compensation you rightfully deserve for your accident. We know what to do because we've been doing this work for more than 40 years. That's why we have such a strong track record of success.
Your accident matters here. Contact us. Call our Oklahoma City office at (866) 584-1027 or our Tulsa office at (866) 584-1028 and schedule your free case evaluation. We want to help you get your life back on track. Contact Lawter & Associates, PLLC, today. We will not rest until justice is served.
Types of accidents we handle
There are many different types of bicycle and pedestrian accidents. Some of the most common types include:
Distracted driving accidents - Many drivers are more focused on their phones than the road around them. As a result, texting drivers and drivers on cellphones often cause pedestrian and bicycle accidents. Other causes of distracted driving accidents include eating while driving, adjusting the car radio, daydreaming and more.
Speeding accidents - Many people drive too fast in Oklahoma on city or residential streets, resulting in serious speeding accidents involving cyclists or pedestrians. When people drive too fast, they have less time to stop and react to other drivers around them. They may lose control, especially if speeding when the road or weather conditions are bad.
Hit-and-run accidents - When drivers cause accidents involving pedestrians or cyclists, many of them panic and flee the scene of the accident. Hit-and-run accidents can be extremely complicated. You may wonder how you will get compensated. But injury victims do have legal options. You may be able to file a claim with your own insurance company.
Crosswalk accidents - People crossing the street in a crosswalk sometimes get hit by drivers who fail to stop. Pedestrian injuries can often be extremely serious.
What are common causes of pedestrian accidents in Oklahoma?
Pedestrian accidents in Oklahoma often occur in large cities like Oklahoma City and Tulsa. These accidents can just as easily happen on rural or residential roads. Some of the most common reasons why these accidents occur include:
Inattentive drivers - Too many drivers take their responsibility for granted and fail to focus on the task at hand. Instead of concentrating on driving, many drivers multitask. The result? Innocent pedestrians walking along or across a street are struck down by drivers who are not paying attention.
Texting drivers - Texting while driving is not specifically prohibited by Oklahoma statute at this time. But that doesn't give drivers the license to cause serious accidents involving pedestrians crossing the street or walking along side one. Pedestrians have rights. And we can fight for them.
Reckless drivers - Weaving between cars, tailgating and other dangerous driving habits often result in pedestrian accidents. When they do, aggressive or reckless drivers should be held responsible for their actions. Contact us. We know how to investigate pedestrian accidents.
Drunk drivers - The dangers of drinking and driving have been well documented for decades. Even so, many drivers in Oklahoma continue to cause pedestrian accidents because they're under the influence of alcohol.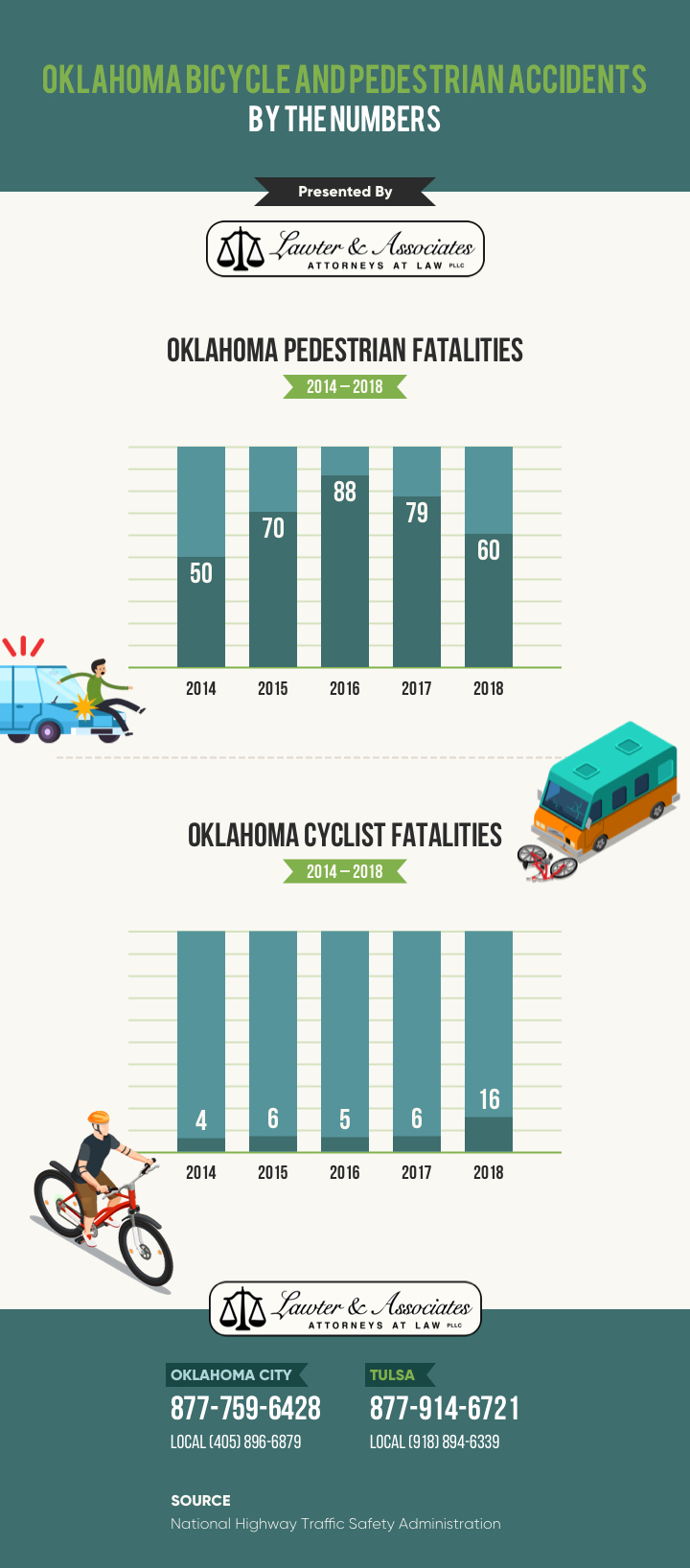 Click here to download a printable version.
Why do bicycle accidents happen in Oklahoma?
Bicycle accidents in Oklahoma happen for many reasons. Some of the most common causes we deal with at our law firm include:
Driving too close to cyclists - Many drivers fail to leave enough space between themselves and cyclists. When drivers do not share the road properly with cyclists, accidents can happen. Oklahoma's roads belong to everyone. Motorists need to share the road with cyclists.
Speeding drivers - Many drivers ignore posted speed limits and drive too fast. When they do, they don't have enough time to slow down and stop when they encounter a cyclist. Speeding is no excuse for causing a serious injury to a cyclist.
Aggressive drivers - Many drivers believe Oklahoma's roads belong to cars. That's why they often take an aggressive approach when they encounter cyclists. Motorists and cyclists all have the right to use our roads. If your rights have been violated and you're a victim of a cycling accident caused by an aggressive driver, contact us.
What should I do if I'm injured in a bicycle or pedestrian accident?
If you're a victim of a bicycle or pedestrian accident and you are physically able to do so, it's critical that you take steps to protect your health and your rights. If you are not physically able to do so, ask someone else to perform these tasks on your behalf:
Contact the police and ask them to respond to your accident.
Call for emergency medical help.
Talk to witnesses. Make sure you get:

Full names
Addresses
Phone numbers

Take photographs of your accident.
Write down details about your accident, including:

Exact time of accident
Exact location of accident
Weather conditions
Traffic signals near your accident (were they working?)
Skid marks on road (are there any?)

Schedule a follow-up appointment with your doctor.
Contact your insurance company.
Call a lawyer. An experienced attorney can thoroughly investigate your accident and fight for the compensation you rightfully deserve
Should I file a lawsuit after my accident?
Injured pedestrians and cyclists deserve to be financially compensated for all their injury-related expenses. However, you have several options when it comes to deciding how to obtain this money. In general, you can either:
Submit a claim with the at-fault driver's insurance company.
File a lawsuit against the at-fault driver or their insurance company.
Some people decide to file a claim with the driver's insurance company. If you decide to pursue this path to compensation, don't be surprised if the at-fault driver's insurance company denies your claim. That's what many insurance companies do in order to try to save some money.
That's not right. That's why many people choose to file a lawsuit in order to obtain the compensation they rightfully deserve. It's also important to note that injury victims only have two years from the date of their injury to take legal action in Oklahoma. So, the sooner you act, the sooner you can demand justice.
Who determines who's at fault after my accident?
Assigning blame after a serious accident involving a pedestrian or a cyclist can often be a very complex process. Often, it's the driver who is to blame for causing these collisions. However, multiple parties might also be to blame, especially if more than one driver is at fault.
So, who decides who's at fault? Many people will likely try to weigh in and offer their opinion after the police have officially investigated your accident. The at-fault driver's insurance company almost always offers their opinion on who's liable in these cases.
Why are insurance companies so interested? Because they're often looking for any excuse to pay injury victims as little as possible. One way they try to do this is through Oklahoma's comparative negligence laws. Under these rules, if a pedestrian or cyclist is found to be partially at fault, the driver's insurance company would not have to pay you the full amount if you were partially responsible for your accident. For example, if a jury awarded you a $100,000 verdict for your accident but the jury determined you were 30 percent at fault, you would only receive $70,000.
The stakes are high after a bicycle or pedestrian accident. That's why it's important to have an experienced lawyer on your side, standing up for your rights and being your voice for justice. Otherwise, you might not be part of the conversation that takes place when determining who was at fault for your crash.
Why should I hire Lawter & Associates?
When pedestrian or bicycle accidents happen, many victims and families who have lost loved ones might think their cases will be resolved quickly and they will be fairly compensated. Unfortunately, that's not always true. In many cases, the injured and families who lost loved ones don't receive the money they rightfully deserve from insurance companies.
Insurance companies often focus on one thing - paying injury victims as little as possible. We know how to take insurance companies on – and win. We work hard on every bicycle and pedestrian accident case we handle in Oklahoma.
We never take anything for granted. We take the time to find out exactly what happened. We carefully review accident reports. We talk to witnesses whenever possible. We frequently consult with accident reconstruction experts. We leave no stone unturned in pursuit of the truth. Contact us and schedule an appointment with one of our experienced accident attorneys. Call (866) 584-1027 for our Oklahoma City office or (866) 584-1028 for our Tulsa office.