Reading Your Oklahoma Car Accident Report
Our law firm's guide to a critical piece of documentation
If you are involved in a car accident anywhere in Oklahoma, the police officer who investigates the crash will fill out a report. This document, called the Official Oklahoma Traffic Collision Report, can prove to be a critical piece of evidence in your case. Insurance companies use the police report when determining whether to approve or deny your claim. And while the report itself is generally not used as evidence if your case goes to trial, the investigating officer will almost certainly repeat the information in the report if he or she is called to testify at a deposition or in court - which may be years after the crash itself.
That's why it's so important to understand what your accident report says, and resolve any errors right away. And that's why the car accident lawyers at Lawter & Associates, PLLC created this guide to the Official Oklahoma Traffic Collision Report. We would be happy to review your accident report and other information related to your case at a free consultation, and we can help you seek fair compensation in the wake of an accident.
Page 1
Top Section: This section describes the date, time and location of the crash, as well as the number of vehicles involved, and the number of people injured or killed.
Second Section: This describes the first "unit," or vehicle involved in the crash.
Contact and driver's license information for the operator of the vehicle
Insurance information
If the driver was cited, citation information is here as well
Third Section: This describes the second vehicle involved in the crash.
If more than two vehicles were involved, supplemental pages will include that information.
Bottom Section
Investigating officer's name and badge number are recorded here
Explains codes used in other sections of the page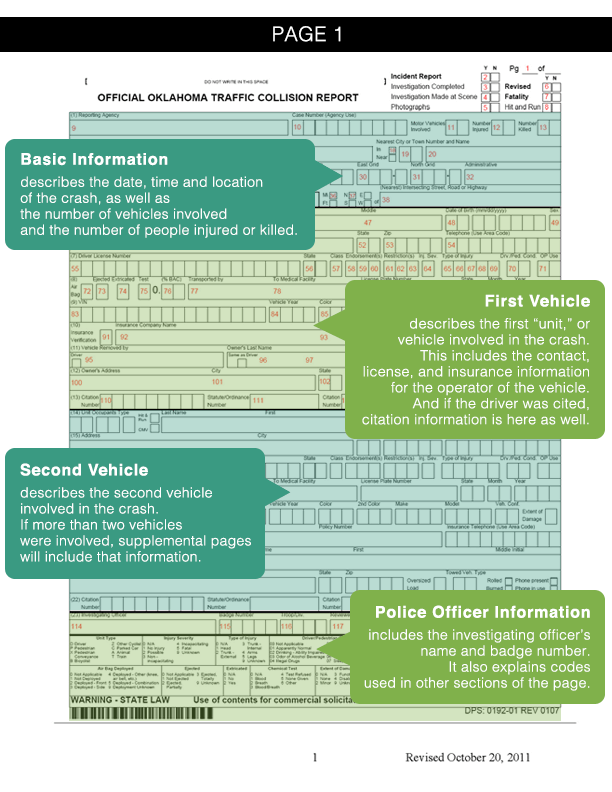 Page 2
This section is an overview of people involved in the crash, including injured persons, passengers, witnesses and owners of property damaged in the accident.
Contact information for each person is included
Middle section is used for accidents involving commercial vehicles - be sure to review this with an attorney for accuracy
Page 3
This page outlines contributing factors to the accident, including road conditions, visibility, drivers' actions, distractions and traffic violations.
The information on this page can be critical to determine liability for the collision.
Page 4
The investigating officer's diagram shows what happened in the crash - make sure this is accurate.
The "remarks" section is a written narrative of what happened.
Click here to download a printable version.