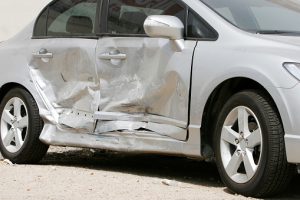 Traumatic brain injury, or TBI, can cause immediate symptoms to victims who sustain open or closed head wounds. Suffering injury to the brain can cause lasting impairment. While victims of repeat head injuries are at the greatest risk, the lasting damage of traumatic brain injury can include cognitive impairment and elevated chances of developing dementia.
Motor vehicle accidents are a leading cause of traumatic brain injury, so crash victims must be aware of risks. In particular, side-impact or T-bone car accidents are especially likely to cause injury to the brain.
Side-Impact Accidents and Traumatic Brain Injury Risks
University of Rochester researchers reviewed data from National Highway Traffic Safety Administration, including accident data involving 5,483 vehicles which contained a total of 6,780 drivers and passengers. The data set was narrowed down to 1,115 people who were in a vehicle in which at least one person was seriously injured. The data was reviewed to determine brain injury risks in different accident types.
The research, published in Annals of Emergency Medicine,  revealed victims of side-impact accidents were three times as likely as victims of other types of car accidents to sustain traumatic brain injury. The rate of TBIs in side-impact crashes was so high, doctors have been alerted to treat T-bone crashes as a significant risk factor for brain injury even in cases where patients are not exhibiting symptoms.
TBIs are not just more likely to occur in side impact accidents, but are also more likely to be serious or fatal.  Anywhere from 51 to 74 percent of deaths in side-impact crashes is attributed to traumatic brain injury, depending upon the study. When there are multi-vehicle side-impact accidents, anywhere from 41-64 percent of fatalities are attributed to traumatic brain injuries.
All victims are at risk, but women especially face elevated chances of sustaining traumatic brain injury when involved in an accident in which one vehicle hits the side of another vehicle. The elevated risk for women is explained by the fact women have less neck strength than men do.
Victims of traumatic brain injury should try to avoid any further risks  of future head injury, according to Centers for Disease Control and Prevention. CDC also advises extensive rest during the recovery process, as well as refraining from the use of alcohol and using only drugs prescribed by a treating physician.
Patients who sustain traumatic brain injuries in side-impact crashes may need to refrain from driving for a period of time, until they have been cleared by a physician as not presenting a risk to themselves or others behind the wheel.
TBI patients may also suffer impaired cognitive function and memory problems. CDC suggests writing things down when memory problems become an issue, and seeking help from specialists to relearn lost skills when brain injuries are serious.
A brain injury can change your personality and emotions, causing aggression and anxiety. It can affect your senses, your communications skills, and your reasoning skills. It can be life-changing.