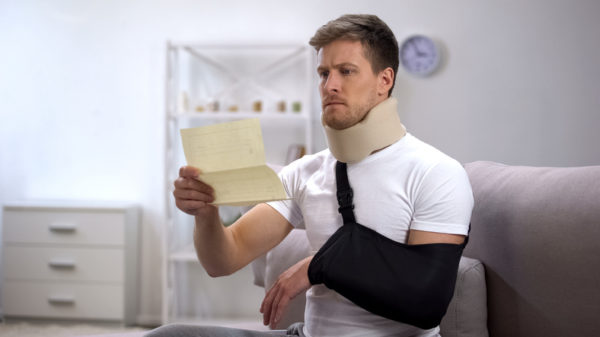 Serious debt caused by medical bills is a far bigger problem in the U.S. than anyone previously believed.
We thought the national medical debt was around $81 billion.
New research says the actual amount of money Americans owe hospitals, doctors, dentists, and specialists is around $141 billion. This debt is not evenly distributed, however. States that declined to expand Medicaid have residents with the most debt, which means the South has been hit the hardest.
Oklahoma is among the top three states with the most medical debt in the nation. In Oklahoma, 23% of people have medical debt in collections, and the median amount owed here is $1,176. Only people in Alaska and Wyoming owe more money per person.
Available since 2014, Oklahoma officials were forced by a successful ballot initiative to expand Medicaid to cover more people in June. Benefits became accessible to new enrollees in July.
Meanwhile, hospitals sue thousands of injured and ill Oklahomans every year over unpaid bills.
Sadly, many people wind up needing extensive medical care through no fault of their own, like those who are injured in car accidents caused by others. They might get rear-ended by a distracted driver while stopped at a red light. It could be that they were involved in a multi-vehicle crash on I-40 caused by someone who was speeding. Or maybe they were T-boned by a drunk driver on Route 64.
The bottom line is, people who get injured by the reckless actions of others are already paying the price for that person's negligent behavior. You shouldn't get shouldered with crippling medical debt on top of that.
How medical debt starts
For those who are badly injured, medical debt is often unavoidable. If you or a loved one needs medical treatment, you're probably going to do everything you can to get it. However, this often comes with some tough decisions. About 20% of Americans ages 18 to 64 have skipped a medical test or treatment recommended by a doctor because they can't afford it.
Compared to similar countries, the U.S. charges wild prices for health care. A knee replacement, for example, in the U.S. costs about $28,184. The same service costs $18,175 in similar nations.
Medical bills alone, however, are not the only reason for medical-related debt. Oftentimes, loss of income is a contributing factor as people cut back on hours to take care of sick loved ones or heal themselves.
In a survey of people who filed for bankruptcy due to medical debt, their highest medical bills were due to:
Doctor visits — 65% of survey respondents say a doctor bill put them over the edge
Diagnostic tests — 65%
Lab fees — 64%
Emergency room visits — 61%
Prescription drug costs — 52%
Outpatient services — 49%
Hospital bills — 48%
Health care premiums — 4%
The medical debt crisis
People are responding to the medical debt crisis in a variety of ways. At home, the most common things people do to pay for their medical bills include:
Reduce spending on food, clothing, and household items — 70%
Use up most or all of their savings — 59%
Take another job or work more hours to earn more money — 41%
Borrow money from friends or family — 37%
Increase their credit card debt — 34%
Meanwhile, Oklahoma's Medicaid expansion is underway.
Also, in a bid to stop medical debt before it starts, state senators are working on a bill to provide more transparency on costs. Right now, most people don't know how much their medical care will cost until they get hit with a huge bill. Oklahoma senators recently approved a bill that says healthcare providers cannot send unpaid bills to collectors if the person treated was not provided with a "good faith estimate" of the cost of services before receiving care.
If approved by the House and signed by the governor, the bill would also require insurance companies to charge patients in-network prices for emergency services, regardless of who cares for them. For people without insurance, the charge cannot be more than 165% of Medicare rates.
The bill's principal author, Sen. Julie Daniels, (R-Washington), says that more than half of Oklahoma bankruptcies are due to unpaid medical expenses.
An attorney can help you realize the full value of your injury claim
Staying out of medical debt is becoming harder and harder in the U.S., and legislation to fix the system is slow-moving. This means that if you were injured in an accident due to someone else's negligence, you owe it to yourself and your family to pursue fair and full compensation for your damages (accident-related expenses).
A car accident lawyer can help you do that.
In Oklahoma, the attorneys at Lawter & Associates always advocate for the maximum amount of compensation our clients are entitled to recover under the law. Our law firm has the knowledge, experience, and resources to accurately calculate the true cost of your accident and fight for every dollar you deserve. We understand what is at stake for you and your loved ones, and that's not something we take lightly.
There are no obligations when you talk to us, and we work on contingency. That means you don't need any upfront money to hire us, and you pay no legal fees unless we win your case. If we do obtain financial compensation on your behalf, our fee is a percentage of the financial award, whether that's a negotiated settlement or a court verdict. Learn how our law firm can help you by contacting us today to schedule a free consultation with a member of our legal team.