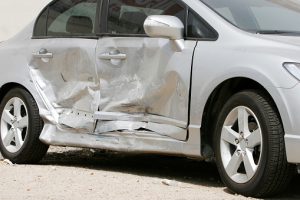 When you are in an intersection and another driver comes from a cross street, the other motorist can strike the side of your vehicle and cause a T-Bone accident. The vehicle will intrude on your car, putting yourself and your passengers at risk. Side panels provide little protection. An experienced T-Bone accident lawyer knows head injuries, chest and neck injuries, and injuries to the torso are very common in these types of car accidents. The injuries can be deadly.
As you approach an intersection, there are precautions you can take to avoid striking the side of another car and steps you can take to reduce the chances another motorist will hit your vehicle. A driver who enters an intersection when he shouldn't and who hits your car can be held legally accountable for losses. However, you can sometimes keep yourself safe and avoid becoming a crash victim by driving assertively so an accident is avoided even when another motorist does the wrong thing.
Prevention of T-Bone Crashes Involves Driving Defensively
Fireman's Fund Insurance Company lists characteristics of defensive drivers who can avoid collisions. A defensive driver "anticipates and prepares for the reckless, careless or unexpected actions of other drivers or pedestrians" and "expects other drivers to violate traffic regulations, not to look before pulling away from a parking space, to fail to observe "stop" signs or to stop at red traffic signals."
When you approach an intersection, there are a number of things you can do to drive defensively and prepare for other motorists to make mistakes. You should:
Approach slowly, at a speed reasonable for current conditions, and be prepared to come to a stop if necessary even if you should legally have the right-of-way.
Slow down at yellow signals and stop for stop signs and flashing red lights. You should always obey all traffic signals.
Go slowly when you are approaching a blind corner.
Check to ensure other motorists are obeying traffic signals prior to entering an intersection. Do not assume a driver will stop or yield, even if the motorist is required to do so by law.
Pay attention for signs another vehicle will make a turn.
Check before entering an intersection when the light turns green to make sure cross traffic has cleared the intersection fully.
Wait when an obstacle is temporarily blocking your view of cross traffic. After that obstacle has cleared, you can check to ensure no oncoming traffic is approaching.
Make turns from the correct lane.
Consider unexpected actions other drivers may make and watch what other vehicles around you are doing. Avoid distractions taking your focus away from the road.
Exercising extra care at intersections is one of the best ways to keep yourself safe on the roads. T-bone crashes are often deadly because side panels on vehicles provide little protection from the impact when a car hits yours. It is worth taking an extra second at an intersection to make sure you and your loved ones do not become a victim.